Wanneer:
oktober 20, 2019 – oktober 22, 2019
hele dag
2019-10-20T00:00:00+02:00
2019-10-23T00:00:00+02:00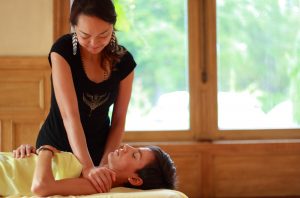 Esalen Massage Intensive Course
Datum:
20 t/m 22 oktober 2019
Tijd:
10:00 - 17:00 uur
Docent:
Mika Oishi
Locatie:
Wingerdweg 32, 1031 CA Amsterdam
Voor wie:
masseurs en massagetherapeuten die al basiskennis hebben van Esalenmassage
Prijs:
€ 360,=
Accreditatie:
wordt aangevraagd bij VNT en VBAG
Esalen® Massage is a unique form of bodywork developed at the Esalen Institute in Big Sur, California. Known for its long integrating strokes, this method creates an experience of deep relaxation, supporting the natural ability of body and mind to self-heal.
In this course we will learn how to use various stretches safely, and we will learn how to use Deep Bodywork®, created by Perry Holloman, as a method that integrates the qualities of a flowing Esalen Massage with the therapeutic effectiveness of deep tissue work into an overall session.
We will practise these techniques in a way that protects the integrity of our own bodies while releasing and unwinding deep-seated tensions in the people we touch, allowing their tissues time to open and change.
The workshop will also serve as a refresher for basic Esalen Massage techniques such as the long stroke, but will then explore more in-depth strokes and bodywork techniques. We will support our explorations with several practices like meditation, yoga and other movement disciplines to experience the qualities of awareness and flowing presence central to this method.
Inspired?
When you are inspired by the spirit and beauty of this work, and want to continue your training, we are very happy to announce that we are working on a official Esalen Massage® Certification Training (23 days) at our venue in Amsterdam! The class will be divided in two modules. Module I from July 6-19 2020, Module 2 from October 10-18 2020. More information will follow.