Wanneer:
september 13, 2019
hele dag
2019-09-13T00:00:00+02:00
2019-09-14T00:00:00+02:00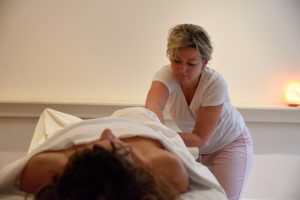 Inspiratieles Leren Masseren
Datum:
vrij middag 13 sept 2019
Tijd:
14:00 - 17:00 uur
Docent:
Jet Keizer / Nathalie Smith
Locatie:
Wingerdweg 32, 1031 CA Amsterdam
Voor wie:
voor iedereen met interesse in massage!
Prijs:
€ 7,50
Misschien zoek je meer balans in je drukke leven, of heb je gewoon zin om iets nieuws te leren. Misschien wil je naast je hoofd, ook je hart en handen inzetten. Of verlang je ernaar meer met mensen te werken en iets doen waarin je vervulling en zingeving kan vinden. In alle gevallen kan het heerlijk zijn om te leren masseren!
Op deze middag kan je proeven van onze manier van lesgeven en leer je meer over onze visie op het lichaam. Wij geloven in heling via het lichaam en stellen aandacht, contact en lichaamsbewustzijn voorop in ons onderwijs. Uit het hoofd, in het lichaam. Zo word je een rijker mens en leg je een goede basis voor het werken met anderen. Je leert een paar simpele grepen en doet enkele oefeningen om meer in het lichaam aan te komen. Zo kan je ervaren wat het met je doet!
Enthousiast geworden? Doe dan de tweedaagse Introcursus Leren Masseren! Zie de agenda hiernaast voor de eerstvolgende datum.