Wanneer:
januari 1, 2016 @ 08:00
2016-01-01T08:00:00+01:00
2016-01-01T08:15:00+01:00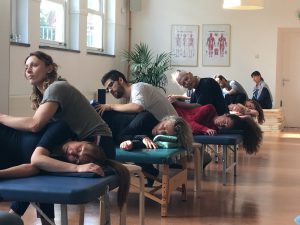 Massage Trainingen
Onze trainingen geven je de kans je verder te verdiepen in een techniek of methode. De lessen zijn verspreid over een langere periode waardoor je de gelegenheid hebt tussentijds te oefenen en het geleerde in de praktijk te brengen. Je kan een training zien als aanvulling op hetgeen je al elders leerde, soms is het ook mogelijk zonder verdere ervaring met massage mee te doen.
Wil je eerst ontdekken of deze techniek bij je past, doe dan de kortere introductiecursus. Je vindt ze onder het kopje 'massagecursussen'.
Vragen? Je kan altijd even contact opnemen met Petra van Os via petra@akademie.nl of via 06-27065856.