Wanneer:
juni 6, 2017 @ 13:36 – 14:36
2017-06-06T13:36:00+02:00
2017-06-06T14:36:00+02:00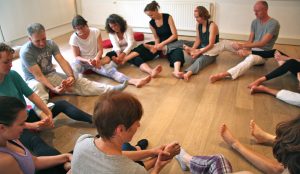 Ook op de Wingerdweg
In onze Akademiestudio's en praktijkruimten vinden allerlei activiteiten plaats, die door derden worden georganiseerd. Heb je interesse om ook gebruikt te maken van onze locatie? Kijk bij studioverhuur of neem contact op met Jet Keizer via 06 - 23601338 of info@akademie.nl.
20-22 juli 2018 Hakomi - Using Mindfulness and the Body to Gently support Change (scroll door naar de workshop in Amsterdam)
v.a. 28 september 2018 Thrive Yoga - Teacher Training 
v.a. 25 september 2018 Total Health - Voetreflexologie
John Armstrong - Rolfing - www.evolutionrolfing.com
Alfredo Fernandez - Mind-Body Fit - www.alfredofernandez.nl
Jet Keizer - Massage - www.jetkeizer.nl
Petra van Os - Lichaamsgerichte Therapie - www.centrumbodywise.nl
Tanja de Ruiter - Hathayoga - www.tanjaderuiteryoga.nl
Anet Schraag - Kundalini Yoga - www.nanak.nl