Wanneer:
januari 1, 2016 @ 08:00
2016-01-01T08:00:00+01:00
2016-01-01T08:15:00+01:00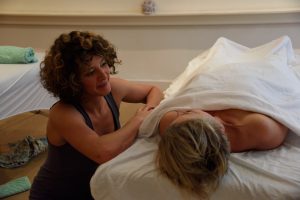 Ervaringen van Studenten
"De contacten met docenten en medestudenten, leerstof, de praktijk, de meditatie, het weekend therapeutische vorming hebben me erg geïnspireerd. Ik vond de lesdagen op de Akademie en het weekend erg verrijkend en ik kwam erg ontspannen van deze lesdagen thuis, ondanks de lange reistijd. Het masseren en het gemasseerd worden heeft me erg goed gedaan. Ik vind het heerlijk om verder te gaan met deze studie."
"De opleiding is een fijne plek om te zijn met mooie warme mensen waarbij alles er mag zijn wat er is. Ik ervaar dat het kind in mij graag wil bewegen, spelen, dansen en daarin blij, vreugdevol en vrij is. Zoo heerlijk om met dat stuk contact te hebben. Lichaamswerk is steeds meer onderdeel van mijn levensstijl geworden en inspireert me me hierin verder te ontwikkelen. De opleiding is zeker ook een lab waarin ik kan onderzoeken wat ik eng vind in contact met mezelf of de ander of waar ik juist meer in mijn eigen kracht leer te staan. Een prachtige opleiding: kleinschalig en persoonlijk!"
"Het studiejaar heeft een mooie, bijzondere ervaring toegevoegd aan mijn leven, waarbij ik meer vertrouwd ben geraakt met aanraken en aangeraakt worden. Ook heb ik gemerkt dat ik de medische basiskennis en anatomie heel interessant vind en dat ik "honger" heb naar meer. En voor mij heel belangrijk, is dat ik ervaren heb dat het bewust en met aandacht bezig zijn met mezelf, anderen en alles daaromheen, iets is wat bij me past en waarbij ik me goed voel. Het zou mooi zijn als ik dit alles kan (blijven) integreren in mijn leven en ik heb het gevoel dat ik daarmee op de goede weg zit. Kortom, het massagevirus heeft mij te pakken gekregen."
"De Akadamie draagt bij aan de vorming en ontwikkeling van mij als therapeut en persoon. De opleiding inspireert en stimuleert mij om verder te groeien. Het geeft mij bijvoorbeeld nieuwe handvatten om bewust contact te maken met mijzelf en anderen. Ook is het een stukje "tijd voor mij". Een hele dag weg uit de dagelijkse beslommeringen."
"De opleiding biedt mij rust, een verfijning van mijn gewaarwordingen (body/mind), awareness over mijn lichaam en mentale processen, veel lol!, verrijking door het leren kennen van prachtige mensen, meer fysieke en mentale soepelheid, steeds meer ontzag voor het menselijk lichaam/geest/het leven, door de kennis en de ervaringen die ik opdoe, inspiratie."