Wanneer:
januari 1, 2016 @ 08:00
2016-01-01T08:00:00+01:00
2016-01-01T08:15:00+01:00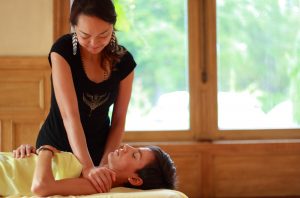 Massage Cursussen
Voor onze massagecursussen zijn wij in binnen – en buitenland altijd op zoek naar interessante onderwerpen en inspirerende docenten. Ze zijn bedoeld voor hen die met massage willen beginnen, of die zich willen oriënteren op een bepaald type massage of bodywork. Ook bieden we meerdaagse scholingen aan voor masseurs en massagetherapeuten die zich willen blijven ontwikkelen in hun vak.
Beginnen met massage
Heb je weinig ervaring met massage en wil je kennismaken met de beginselen, dan is de Inspiratie Avond/Middag of de Introductiecursus Leren Masseren een echte aanrader. Je krijgt de kans kennis te maken met de werkwijze op de Akademie, waarin je meegenomen wordt in de wondere wereld van het voelen. Iedere lesdag is een rijke aaneenschakeling meditatie, beweging, lichaamswerk en massage.
Verder leren
Heb je al ervaring met massage en wil je kennismaken met een aanvullende methode, dan is een massagecursus geschikt. Kijk op deze site voor het huidige aanbod.